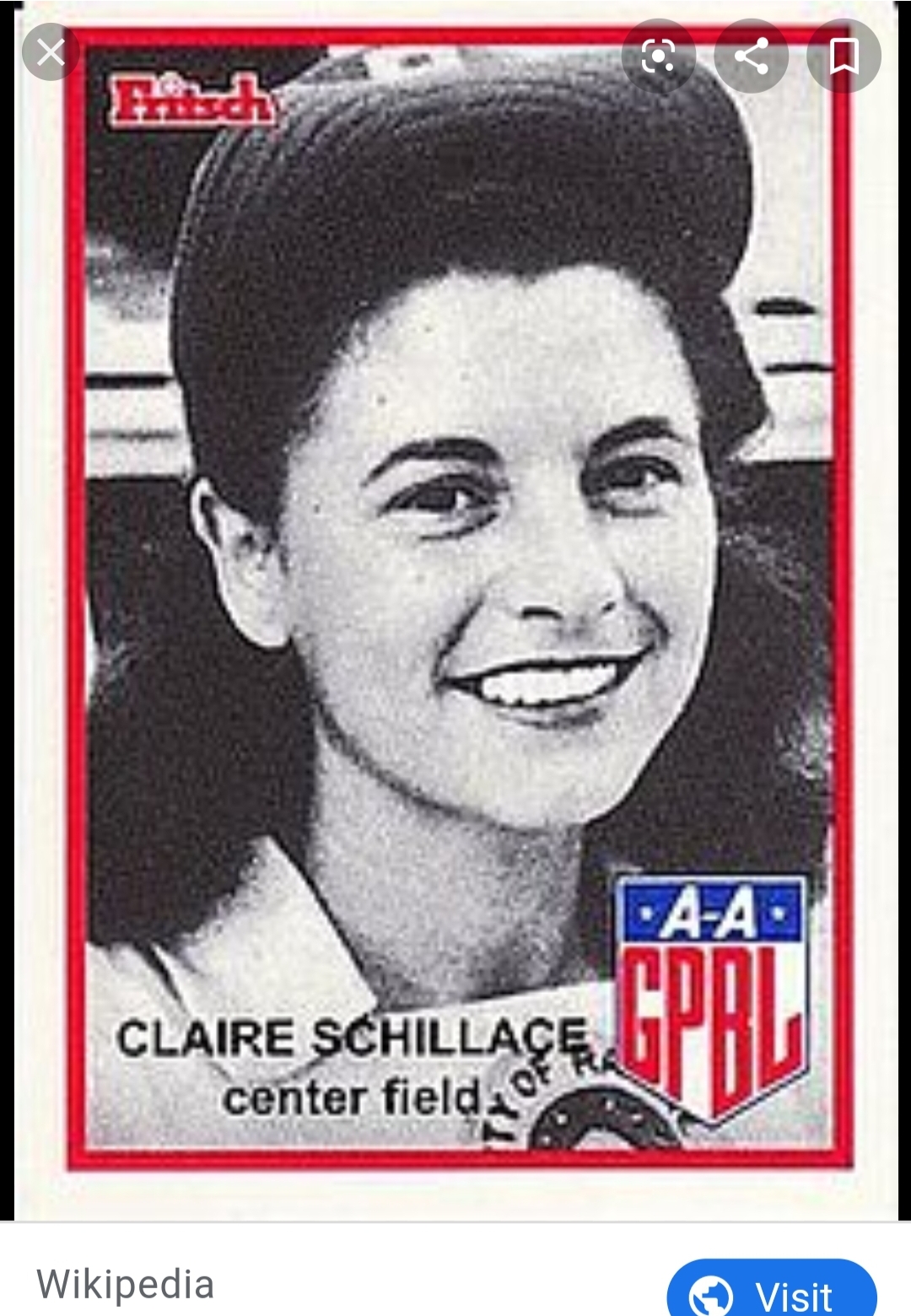 697: Claire Schillace Donahoe
All American Girls Professional Baseball League Player
Born: 29 March 1921, Melrose Park, Illinois, United States of America
Died: 17 January 1999, Bethesda, Maryland, United States of America
Also Known As: Clara
Claire played for the Racine Belles from 1943 to 1946. She was twenty-one years old when she began to play in the league. Claire was one of the first four players signed to the AAGPBL where she earned $75 a week.
Claire went on to earn a master's degree in Physical Education while still working in the league.
After Claire married in 1946, she had to leave the league because her husband was assigned to work as a principal at an army school in Germany. The following year, Claire began teaching at the school as a PE teacher. Claire and her husband would move to several different countries, teaching while he was in the service, before they finally settled in Washington state. Claire continued to teach once back in the states. They had four children together.
Claire was a consultant for the film A League of Their Own, which chronicles the league with fictionalized players. She was able to make a minor cameo appearance in the film. Claire has stated that the semi-ridiculous film sequence of the girls attending charm school was not a Hollywood fiction. All the female players had to attend an etiquette school that taught them how to apply makeup and other feminine pursuits before they could play in any AAGPBL games.
In 1990, Claire was inducted into the National Baseball Hall of Fame.
The AAGPBL has been immortalized in the aforementioned film A League of Their Own. For those who haven't seen the film, the AAGPBL was an all girls' baseball league originally organized to replace men's baseball during World War II. Because the majority of the male players had been drafted, baseball teams across the country couldn't play, and it was feared the baseball fields themselves would shutter and close. Philip K Wrigley, of Wrigley's Chewing Gum fame, formed a committee to find a solution to the problem. The AAGPBL was formed as a result.
Badges Earned:
Find a Grave Marked
Sources:
https://www.aagpbl.org/profiles/claire-schillace-donahoe-clara/364
https://www.aagpbl.org/articles/show/30
https://frankfurthigh.com/history/subpages/Clara_Donahoe.htm
https://www.findagrave.com/memorial/145625803/claire-joan-donahoe