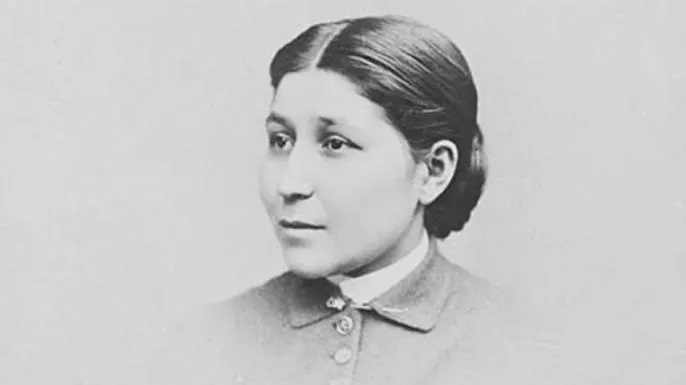 "We who are educated have to be pioneers of Indian civilization. We have to prepare our people to live in the white man's way, to use the white man's books, and to use his laws if you will only give them to us. The white people have reached a high standard of civilization, but how many years has it taken them? We are only beginning; so do not try to put us down, but help us to climb higher. Give us a chance."
-Susan's Salutatorian Graduation Address
691: Susan La Flesche Picotte
The First Native American to Receive a Medical Degree
Born: 17 June 1865, Omaha Reservation, Nebraska Territory, United States of America (Present-day Cuming County, Nebraska, United States of America)
Died: 15 or 18 September 1915, Walthill, Omaha Reservation, Nebraska, United States of America
Susan decided to attend medical school and become a physician after she watched a Native woman die because the white doctor refused to give her any care.
She was the daughter of the Omaha Chief Iron Eye (Joseph La Flesche) and his wife One Woman (aka Mary). Iron Eye was the last recognized chief of the Omaha. Her sister was Susette La Flesche, who was remarkable in her own right.
Susan first attended a school specifically designed to train and educate African American and Native American students. She graduated after two years as salutatorian, and then her battle to attend medical school began.
Susan couldn't afford to go to medical school on her own, and so all her expenses were covered by the US Department of the Interior and private donations. Susan was also the first Native American student to receive federal aid (from the US Department of the Interior) to attend a professional school.
Susan graduated from medical school after only two years of study at the top of her class. At the time, the average medical student was in school for three years.
After graduation and a year's internship in Philadelphia, Susan returned to the Omaha Reservation and tended to over 1,200 people. She eventually opened a private practice, married, raised two sons, and nursed her husband through a terminal illness.
In 1906, Susan was the leader of a delegation to Washington DC, lobbying for temperance and the prohibition of alcohol on her reservation.
Susan's dream was realized in 1913, when she was able to open a hospital on the reservation. She passed away two years later.
Beginning in 1989, the building was renovated as a museum in her honor.
Badges Earned:
Find a Grave Marked
Rejected Princess
Located In My Personal Library:
The Doctor Wore Petticoats: Women Physicians of the Old West by Chris Enss
Uppity Women Speak Their Minds by Vicki Leon
Tough Mothers by Jason Porath
A Warrior of Her People: How Susan La Flesche Overcame Racial Inequality to Become America's First Indian Doctor by Joe Starita
Sources:
https://cfmedicine.nlm.nih.gov/physicians/biography_253.html
http://www.nebraskastudies.org/1875-1899/susan-la-flesche-picotte-first-na-female-physician/
https://www.history.com/news/remembering-the-first-native-american-woman-doctor
https://www.smithsonianmag.com/history/incredible-legacy-susan-la-flesche-first-native-american-earn-medical-degree-180962332/