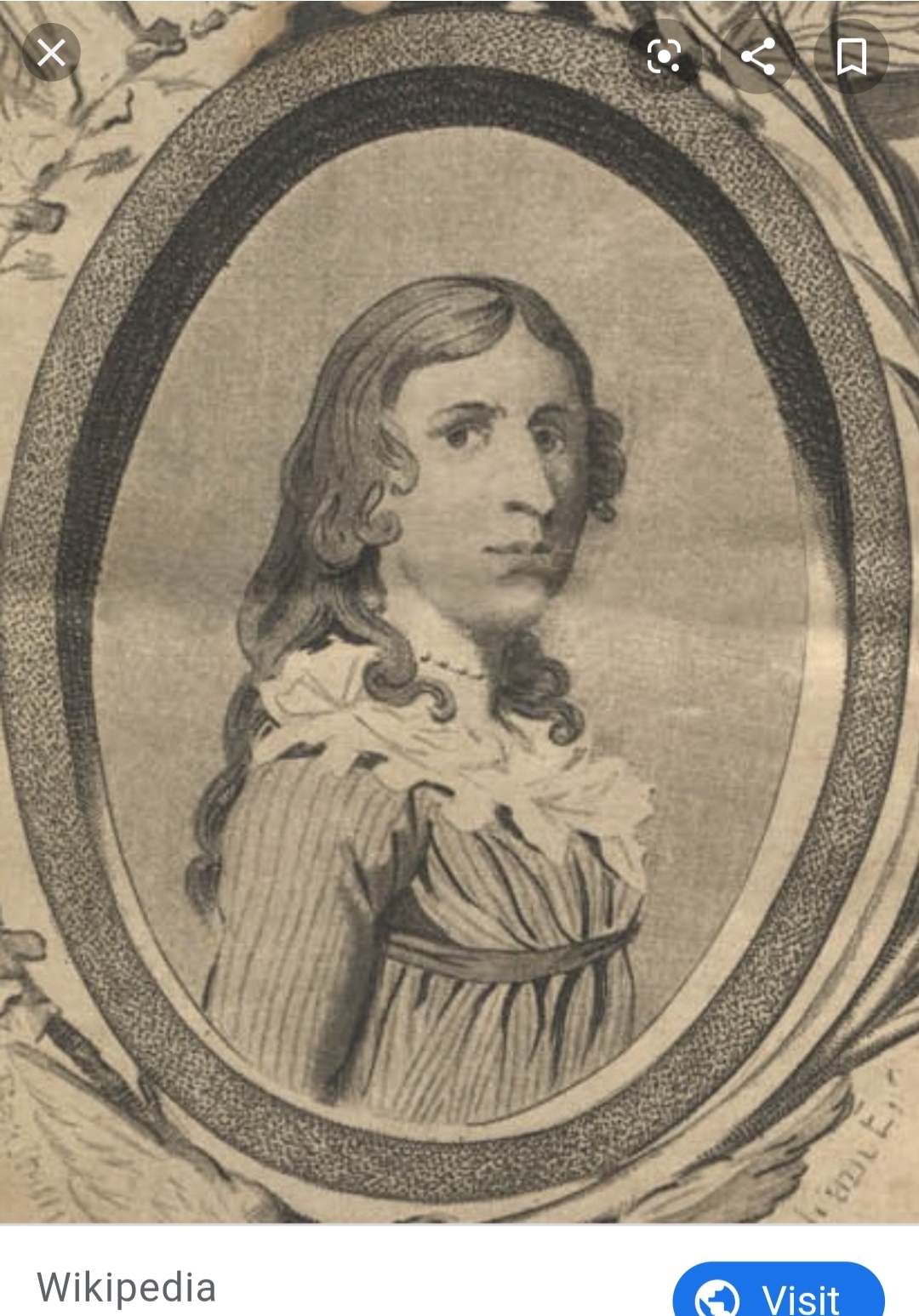 581: Deborah Sampson Gannett
Revolutionary War Soldier
Born: 17 December 1760, Plympton, The Massachusetts Bay Colony (Present-day Plympton, Massachusetts, United States of America)
Died: 29 April 1827, Sharon, Massachusetts, United States of America
Deborah is also the first known American woman to dress up as a man to fight in war. She enlisted in the Fourth Massachusetts Regiment of the Continental Army in 1782. According to a diary written by one of Deborah's neighbors, this was actually her second attempt to enlist. The first ended in Deborah being discovered.
Before joining the war effort, Deborah had been bound out as an indentured servant at only ten years old. Her father never returned from a sea voyage (or simply abandoned his family, sources differ), and her mother had little choice if she wanted her children to survive and not starve to death. When she turned eighteen, Deborah's investiture ended, and as a self-taught woman, she became a teacher during the summers. In winter, Deborah worked as a weaver.
Once the war kicked off and Deborah decided to join the war effort, she made herself useful. Deborah was not a camp follower or someone who stuck to the sidelines. On the contrary, her war record was full of close calls and multiple confrontations with the enemy. As recounted by the National Women's History Museum, "At West Point, New York, she was assigned to Captain George Webb's Company of Light Infantry. She was given the dangerous task of scouting neutral territory to assess British buildup of men and materiel in Manhattan, which General George Washington contemplated attacking. In June of 1782, Sampson and two sergeants led about 30 infantrymen on an expedition that ended with a confrontation—often one-on-one—with Tories. She led a raid on a Tory home that resulted in the capture of 15 men. At the siege of Yorktown she dug trenches, helped storm a British redoubt, and endured canon fire." (Full article linked below).
Deborah was wounded twice but refused medical attention both times for fear of her identity becoming known. A doctor finally discovered her true sex after a severe illness, and she was honorably discharged in 1783.
Deborah later married and had three children.
In 1792 she received a onetime pension of £34 sterling with the help of Paul Revere. Deborah was the only female soldier to earn a full military pension for her participation in the war. In 1802, Deborah partook on a lecture tour, traveling the new country to tell about her experiences in the war, the first woman in American history to do such a tour.
Four years after Deborah's death, her husband petitioned Congress for a spousal pension since he had been married to a soldier. Congress would eventually award him the money; unfortunately, he passed away before receiving it.
In 1982, Deborah was named the official heroine of Massachusetts. She is considered a Daughter of Liberty and has a local chapter of the National Society Daughters of the American Revolution named after her.
Deborah's story is recounted on an episode of Monumental Mysteries titled "Piggy Bank, All the King's Horses, Funeral to Freedom."
Badges Earned:
Find a Grave Marked
Located In My Personal Library:
Women Heroes of the Revolution by Susan Casey
Women in the American Revolution by Jeanne Munn Bracken
Founding Mothers: The Women Who Raised Our Nation by Cokie Roberts
America's Women: 400 Years of Dolls, Drudges, Helpmates, and Heroines by Gail Collins
Sources:
https://www.womenshistory.org/education-resources/biographies/deborah-sampson
https://www.smithsonianmag.com/smart-news/diary-sheds-light-deborah-sampson-who-fought-revolutionary-war-180972547/
https://historyofmassachusetts.org/deborah-sampson-woman-warrior-of-the-american-revoultion/
https://www.battlefields.org/learn/biographies/deborah-sampson