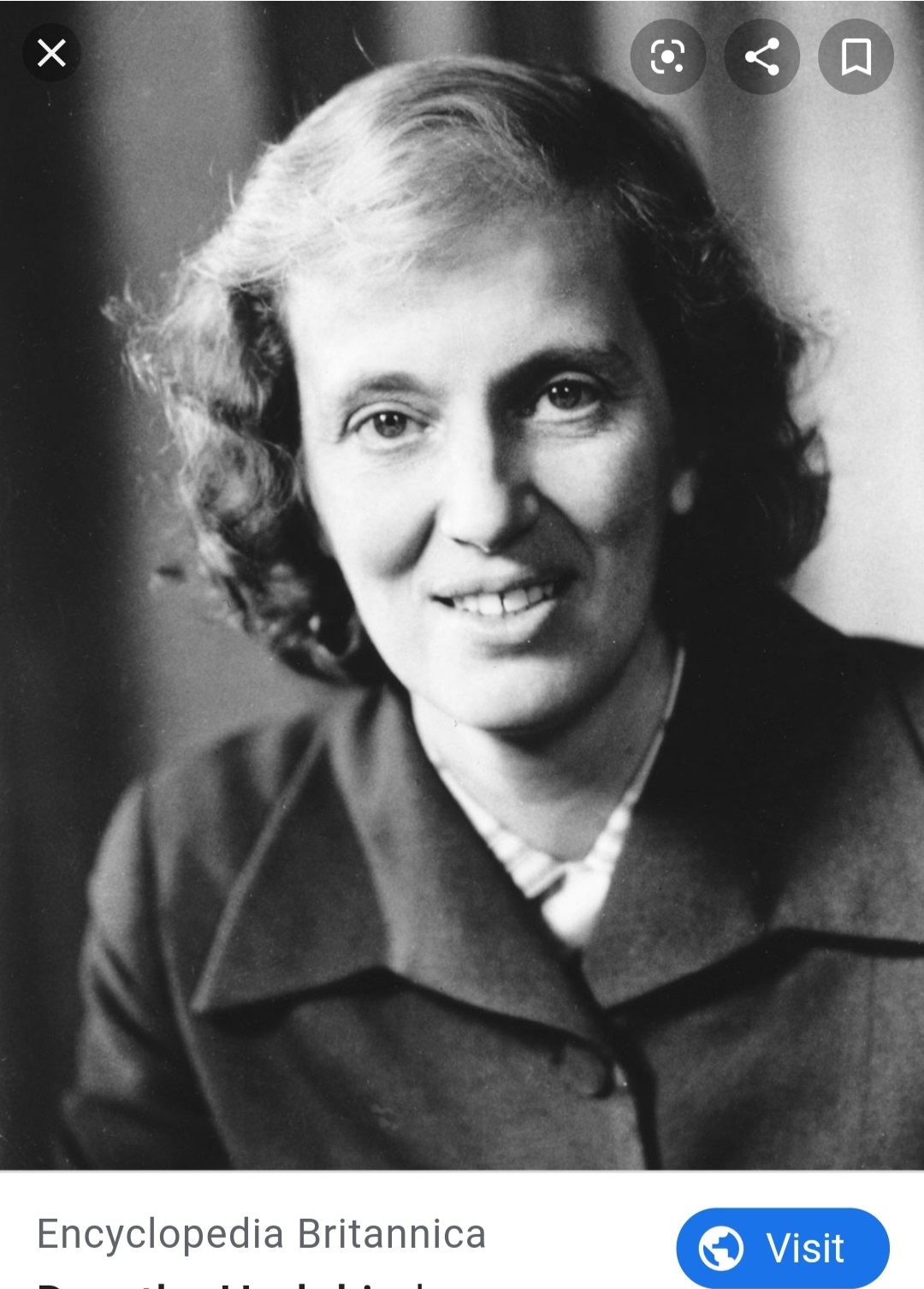 395: Dorothy Hodgkin
Biochemist and Crystallographer
Born: 12 May 1910, Cairo, Egypt
Died: 29 July 1994, Ilmington, United Kingdom
Dorothy was the first person to create an x-ray diffraction photograph of a protein.
She helped discover the structure of penicillin, Vitamin B12, and Insulin.
In 1964, she was solely awarded the Nobel Prize in Chemistry. The prize citation reads, "for her determinations by X-ray techniques of the structures of important biochemical substances."
Growing up, Dorothy was born in Egypt, raised part time in Sudan, then the British Mandate of Palestine, and other countries, working alongside her parents when off of school in various archaeological sites. Despite this, she still decided to go into chemistry and crystallography over archaeology.
Dorothy was a member of several institutions, including: The Royal Society, the Royal Netherlands Academy of Sciences (as a foreign member), and the American Academy of Arts and Sciences (Boston).
Dorothy was a staunch socialist to the point of being barred from the United States during the McCarthy era. Her hopes for peace and disarmament of the Soviet Union led her to appeal directly to then Prime Minister Margaret Thatcher (who was actually one of Dorothy's former students!).
She was married with three children.
Dorothy was also given several awards from the Soviet Union and the United Kingdom for her work.
Badges Earned:
Find a Grave Marked
Located In My Personal Library:
Women In Science by Rachel Ignotofsky
Sources:
https://www.nobelprize.org/prizes/chemistry/1964/hodgkin/biographical/
https://www.pbs.org/wgbh/aso/databank/entries/bmhodg.html
https://spartacus-educational.com/SChodgkin.htm
https://www.findagrave.com/memorial/103066650/dorothy-mary-hodgkin