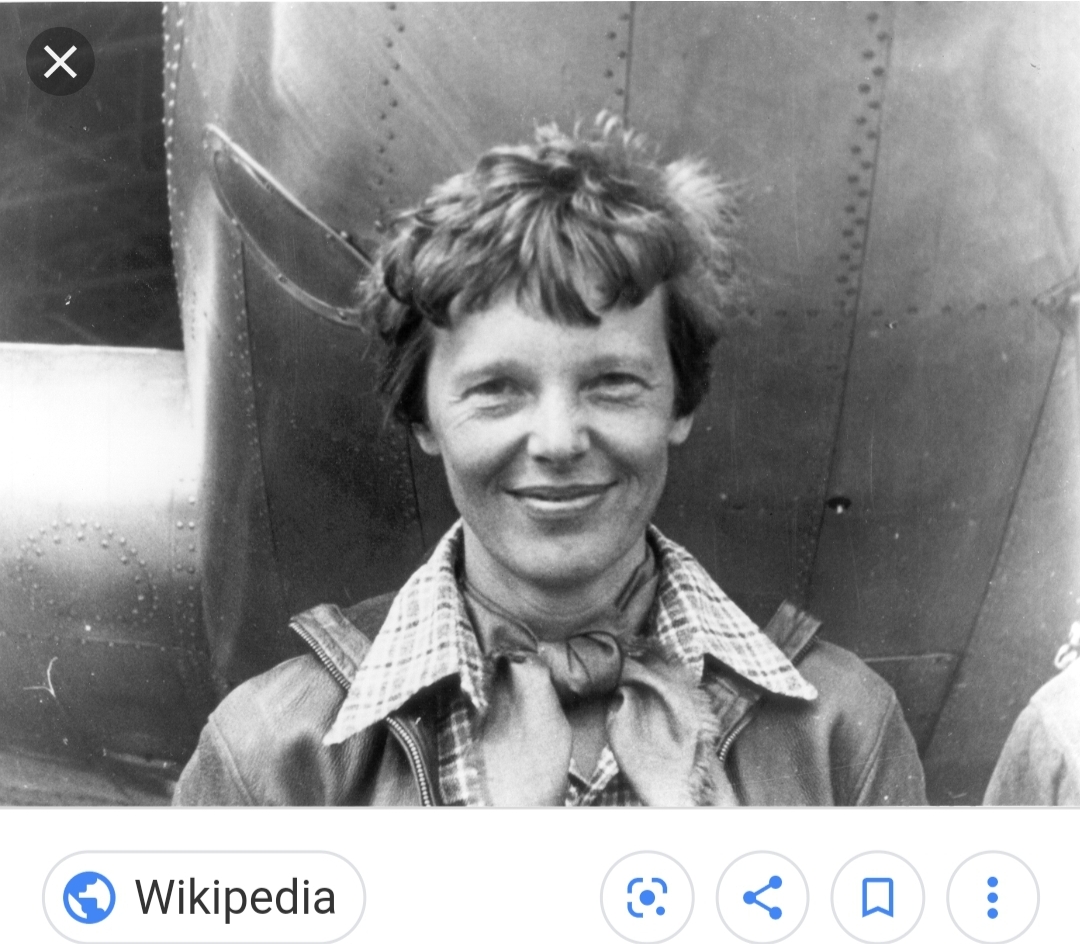 133) Amelia Earhart
Pilot Who Broke Many Records for Women and Pilots in General
Born: 24 July 1897, Atchison, Kansas, United States of America
Died: Most Likely July 1937, The Pacific Ocean
She was the first woman to fly solo across the Atlantic (and second person after Charles Lindbergh).
Amelia was the first person to fly solo from the Hawaiian Islands to the mainland United States.
During World War I, she worked as a Red Cross nurse.
Amelia learned how to fly in 1921 and purchased her first plane that same year.
She was the first woman to receive the Distinguished Flying Cross from the United States government.
In 1929 she helped form the Ninety Nines—an international organization that still exists for women in forty-four countries—helping to advance their careers (Amelia served as the first president for licensed pilots).
In 1937 she became the first person to attempt to circumnavigate the globe by flight with her navigator Fred Noonan.
In July of that year they were declared lost at sea somewhere near Howland Island in the South Pacific. President Roosevelt organized a massive two-week search party but to this day no definitive proof or wreckage of the pair has ever been found.
Since 1988 TIGHAR has been postulating the theory that the pair landed on Gardner Island and may have survived for several weeks. They found a woman's shoe and a cosmetics jar dating to the 1930's alongside human finger bones and a piece of plexiglass that could have come from her plane.
In July of 2019, National Geographic announced they were funding an expedition led by Robert Ballard, the man famous for accidentally discovering the RMS Titanic's wreck site, would be heading out on August 7th to locate Amelia's lost plane. National Geographic plans to document the entire search and air a documentary about the search on their cable channel October 20th. UPDATE: After watching the documentary, I can inform you that, not surprisingly, they didn't find anything concrete. The only thing I would note from the piece is one piece of evidence I had never heard before. In the days and weeks after Amelia disappeared, fifty-seven different people reported to their local newspapers and police stations that they had heard radio distress signals coming from the two stations Amelia had been given to transmit on during her journey; no other craft were authorized to use those stations. The fifty-seven people overheard a woman giving distress signals, saying she had crashed, identifying herself as Amelia Earhart, and that she needed help but was uncertain of where she was. The radio broadcasts seem to have been coming from the island called Nikumaroro, formerly known as Gardner Island. In the early 1940's, thirteen bones and a woman's shoe were recovered from the island, and in the decades since small pieces of women's cosmetic equipment have been uncovered as well.
In November of 2019 CNN and The Vintage News announced that bones that may possible belong to Amelia Earhart have been sent in for DNA analysis. The bones will be compared against Amelia's only still surviving niece. I will update this article when more information is released.
Badges Earned:
Find a Grave Marked
Located in My Personal Library:
America's Women: 400 Years of Dolls, Drudges, Helpmates, and Heroines by Gail Collins
Amelia Earhart by Jane Sutcliffe
Breaking History: Vanished! America's Most Mysterious Kidnappings, Castaways, and the Forever Lost by Sarah Pruitt
Don't Know Much About History: Everything You Need to Know About American History but Never Learned by Kenneth C Davis
Fly Girls by Keith O'Brien
Flying For Her Country by Amy Goodpaster Strebe
How They Choked by Kevin O'Malley
In Praise of Difficult Women by Karen Karbo
Lost Bodies by Jenni Davis
The Oxford Encyclopedia of Women in World History Edited By Bonnie G Smith
National Geographic History Magazine Article "The Mystery of Amelia Earhart's Last Flight" (July/August 2019 Edition)
100 Greatest Mysteries: The World's Secrets Revealed (Magazine by History)
Princesses Behaving Badly by Linda Rodriguez McRobbie
Scandalous Women: The Lives and Loves of History's Most Notorious Women by Elizabeth Kerri Mahon
Unsolved Mysteries of American History: An Eye-Opening Journey Through 500 Years of Discoveries, Disappearances, and Baffling Events by Paul Aron
Who Knew? Women in History: Questions That Will Make You Think Again by Sarah Herman
Time Magazine's 100 Women of the Year (Amelia appears in the 1935 article, "Amelia Earhart")
Sources:
https://www.history.com/topics/exploration/amelia-earhart
https://www.nationalgeographic.com/archaeology-and-history/magazine/2019/07-08/aviator-amelia-earhart-last-flight/
https://economictimes.indiatimes.com/news/international/world-news/man-who-found-wrecked-titanic-to-search-for-amelia-earhart/on-an-expedition/slideshow/70434387.cms
https://www.thevintagenews.com/2019/11/04/amelia-earhart-dna/
https://www.findagrave.com/memorial/6667/amelia-earhart
Personal Note:
My connection to Amelia Earhart.
When I first began studying Amelia Earhart, my mom noticed a few details that seemed a little strange.
For one thing, we think that when you compare pictures of Amelia to my grandmother Ruth, when she was younger. They have a bit of a resemblance. My grandma has also always been headstrong and, shall we say, outgoing for a woman born in her generation, just like Amelia.
My grandma also loves to travel, and while her preferred method is a car and not a plane, listen to this. When she initially left to circumnavigate the globe, Amelia took off on March 17th 1937. My grandma was born March 17th 1942. And Amelia's last flight lasted right around eighteen hours. For many years, my grandmother owned a home in Texas despite us living in Arizona. She would drive straight through without stopping, and the trip lasted…eighteen hours.
Freaky, right? As stated above, my grandma was born in 1942, so hey, you never know…