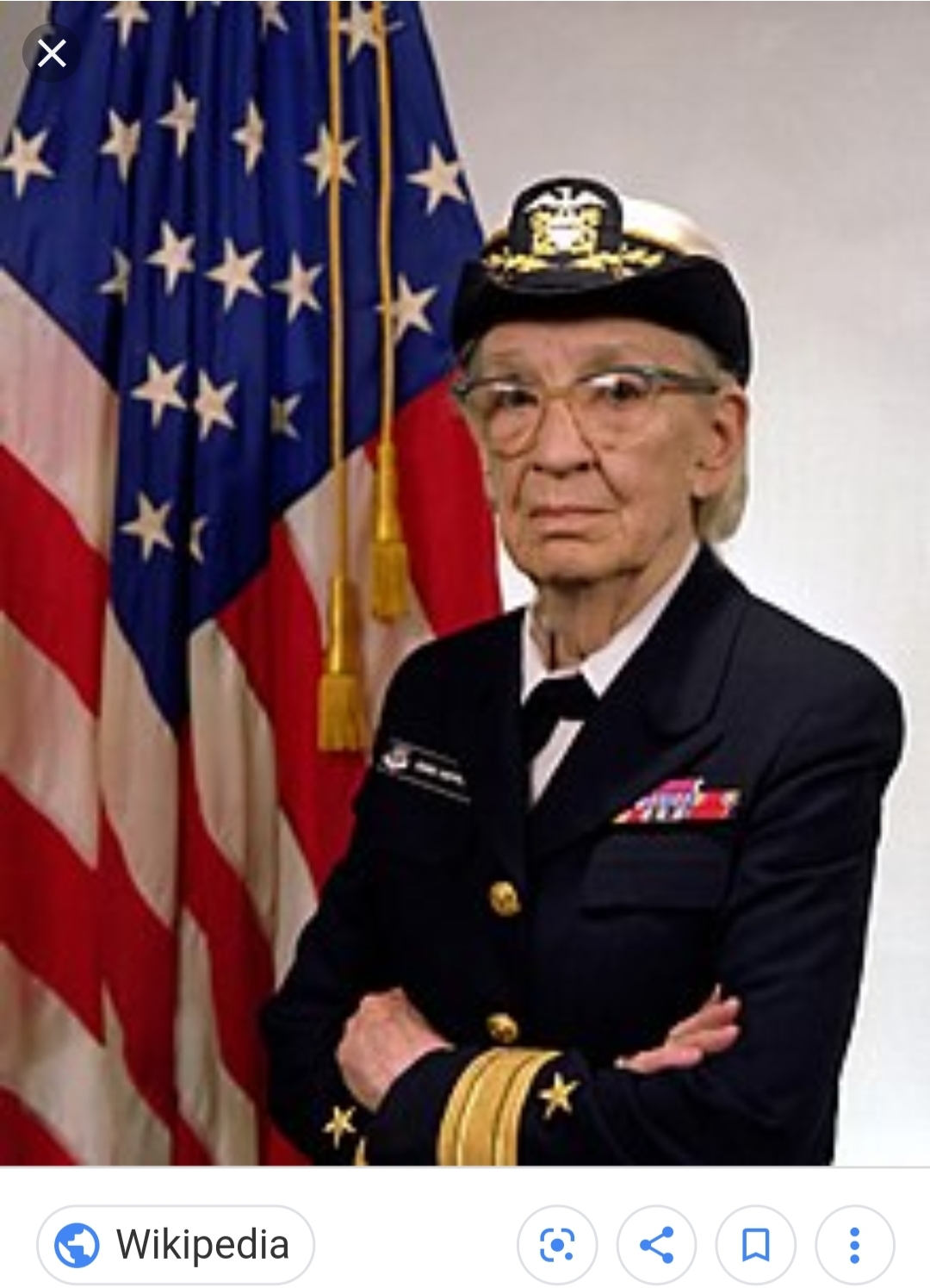 11) Rear Admiral Grace Hopper
She was more than just a Dazzling Daughter
Born: 9 December 1906, Manhattan, New York, United States of America
Died: 1 January 1992, Arlington, Virginia, United States of America
Computer technician and admiral in the US Navy, Grace helped create UNIVAC 1 which was the first commercial electronic computer. She also helped create the naval applications for COBOL or Common Business Oriented Language.
Grace received her bachelor's degree from Vassar College in 1928, and then received her bachelors from Yale in 1934.
In 1943 she joined the Naval Reserve and in 1944 she became a lieutenant and was sent to join the Bureau of Ordnance's Computation Project located at Harvard. While there she worked on Mark I which was the first large-scale automatic calculator and the precursor to modern computers. She would coin the term "bug" in referencing computer issues after a moth flew into the Mark I's inner workings. Grace retired from the Navy in 1966 before being recalled to active duty in 1967 to help standardize the navy's computer languages. She retired again in 1986 at the age of 79—making her the oldest active duty officer in the navy (and she didn't retire willingly—the Navy made her go).
Grace had attained the rank of Rear Admiral and was often referred to as Amazing Grace. She was posthumously awarded the Presidential Medal of Freedom in 2016.
Grace was also a member of NSDAR (The National Society Daughters of the American Revolution) and was buried with full military honors at Arlington National Cemetery.
The US Navy's official website refers to her as the Mother of Computing, and by the time she passed she had thirty honorary degrees from various universities.
She once said, "If you do something once, people will call it an accident. If you do it twice, they call it a coincidence. But do it a third time and you've just proven a natural law!"
Badges Earned:
Find a Grave Marked
Located In My Personal Library:
Time Magazine's 100 Women of the Year (Grace appears in the 1959 article, "Grace Hopper")
Women in Science by Rachel Ignotofsky
Sources: 
https://www.findagrave.com/memorial/1784/grace-brewster-hopper
https://www.britannica.com/biography/Grace-Hopper
https://www.public.navy.mil/surfor/ddg70/Pages/namesake.aspx
NSDAR's List of "Dazzling Daughters"