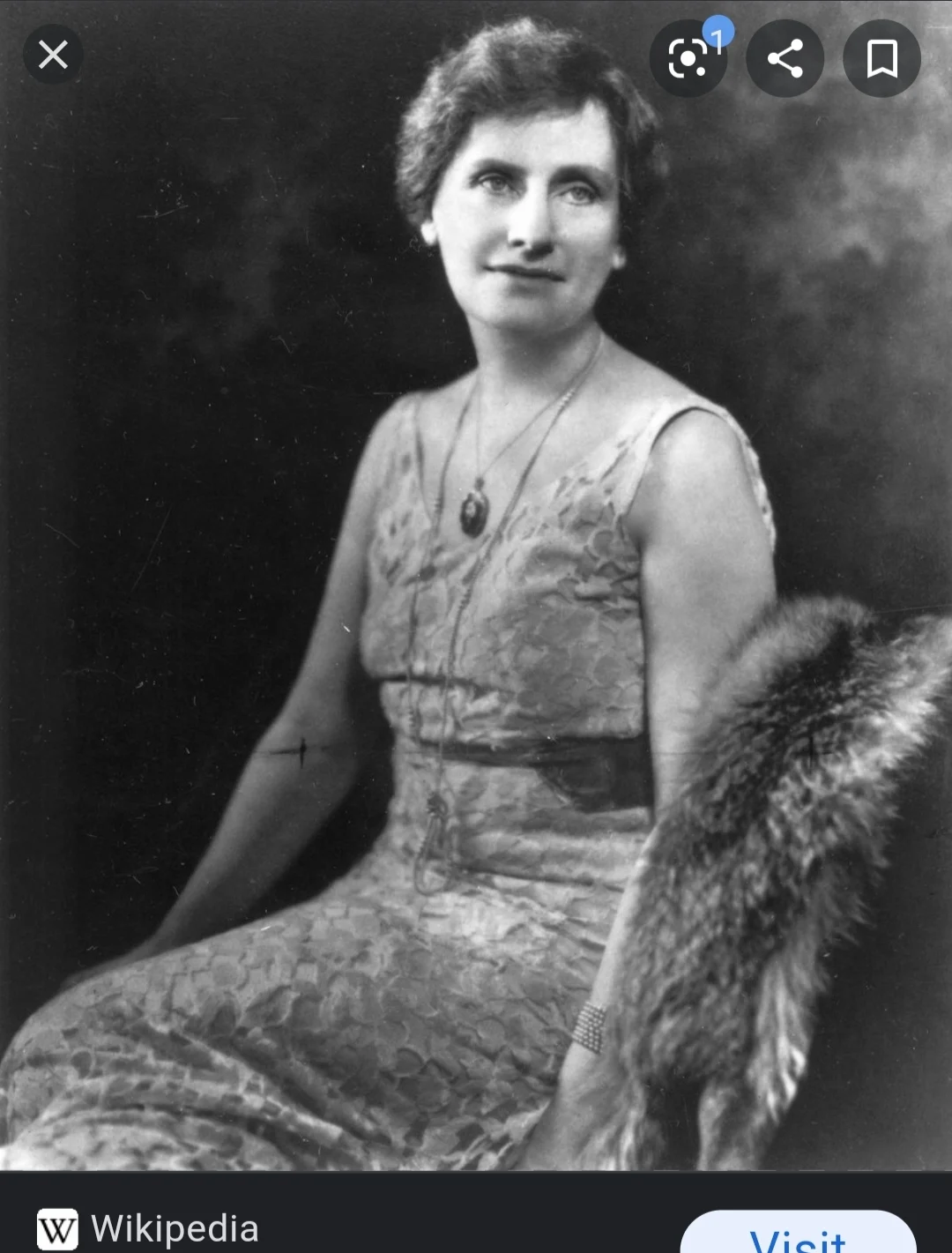 1167: Nellie Tayloe Ross
The First Female Governor to be Inaugurated in the United States
Born: 29 November 1876, St. Joseph, Missouri, United States of America
Died: 19 December 1977, Washington DC, United States of America
Nellie was the fourteenth governor of Wyoming (and obviously the first woman to serve in such a capacity). She was also the first female Director of the United States Mint for twenty years, from 1933 to 1953, and served as Vice President of the Democratic National Convention.
Nellie was educated in private and public schools in her formative years. She originally lived with her family on a farm in Missouri, but when hard times hit the family moved to Kansas, where her father owned a grocery store. When Nellie was thirteen, her mother died.
After graduation, Nellie worked as a kindergarten teacher for the Omaha public school district. Her various life experiences growing up with her father and then as a teacher were preparing her for a life in government and politics, she just didn't know it yet.
In 1902, Nellie married a young lawyer named William Ross, who also had political ambitions of his own as a populist democrat. The couple would have four sons, though one died when he was only ten months old.
Nellie began her political career as First Lady of Wyoming when her husband was governor. She also acted as an advisor to him but was constantly stressed over money. The governor's salary was $6,000 a year, and yet Nellie's husband kept borrowing money in order to keep up appearances and live a far more lavish lifestyle than they could afford.
When Nellie's husband died partway through his term as governor, Nellie was left with a choice: either run in the race as the Democrat candidate to finish her husband's term, or step aside and try to find some other way to support her sons and pay off her husband's debt. Forty-five minutes before the deadline, Nellie finally accepted the Democrat nomination to run for governor.
Nellie easily won the election, with 8,000 more votes in her favor than her Republican opponent (and only 79,000 votes were cast in total!). Nellie had officially become the first female governor, not just in Wyoming, but in the entire United States (although it should be noted that Miriam "Ma" Ferguson was inaugurated as governor of Texas only fifteen or sixteen days later [sources differ on the number of days]).
According to Wyoming History (article linked below), "It was a tough time to take office. Drought, farm and ranch failures and especially bank failures were spreading hardship across the state. Many people lost their property and their life savings. The oil boom was leveling off. Deadly mine explosions in western Wyoming at Kemmerer in 1923 killed 100 miners, and reminded the state that coal mining remained as dangerous as ever."
Unfortunately, Nellie was a Democrat trying to keep her head up in a sea of Republicans, and so she did not manage to get as much accomplished in her term as she had hoped. Of the eleven reforms Nellie had wanted to get passed through the state legislature, only five succeeded. Despite these setbacks, Nellie was famous across the country. She rode in President Calvin Coolidge's inaugural parade, as well as giving a speech before the Women's National Democratic Club.
Nellie continued to travel, to Chicago, Maine, and more. She gave speeches and discussed various issues, including water rights for western states. Newspaper accounts praised her successes, as well as showing their confusion and surprise that a woman politician was doing so well at her job.
In 1926, Nellie ran for re-election. Newspapers were vicious in their coverage of her. To some, she had not done enough to lower taxes or do anything worthwhile to help the people of Wyoming. To others, Nellie had betrayed her gender by not hiring any women to fill positions previously held by men in the government. It was a lose-lose situation, and Nellie could not make anyone happy (other than her close circle of supporters). Nellie, never one to just lie down and quit, drove all over the state in a jam-packed schedule, campaigning and giving as many speeches as she could.
Unfortunately, it wasn't enough, and Nellie lost. Republicans took all five of the highest seats in the Wyoming state government. Nellie's race was the closest of the bunch—she lost by just over 1,000 of the 70,000 votes cast.
After losing the election, Nellie continued to travel across the United States, campaigning for various other Democrats. It was also during this time that she became director of the US Mint and worked for the Democratic National Convention.
When Nellie retired in 1953, she was finally rich thanks to various real estate investments, and had plenty of time to travel and play with her grandchildren. Nellie lived to be one hundred and one years old. She was born during the Presidency of Ulysses S Grant and died during the Jimmy Carter administration. The country changed in a multitude of ways during her lifetime, and Nellie made her mark on history to say the least.
Badges Earned:
Find a Grave Marked
Located In My Personal Library:
Roses of the West by Anna Seagraves
No Place for a Woman: The Struggle for Suffrage in the Wild West by Chris Enss
America's Women: 400 Years of Dolls, Drudges, Helpmates, and Heroines by Gail Collins
A Fun Update...(June 2021):
In late June of 2021, my mother and I took a road trip around some of the closer states to where we live. Along that journey, we were able to stop at the Lakeview Cemetery in Cheyenne, WY, where Nellie and her husband are laid to rest for all eternity, and I was able to snap this photo while we were there.