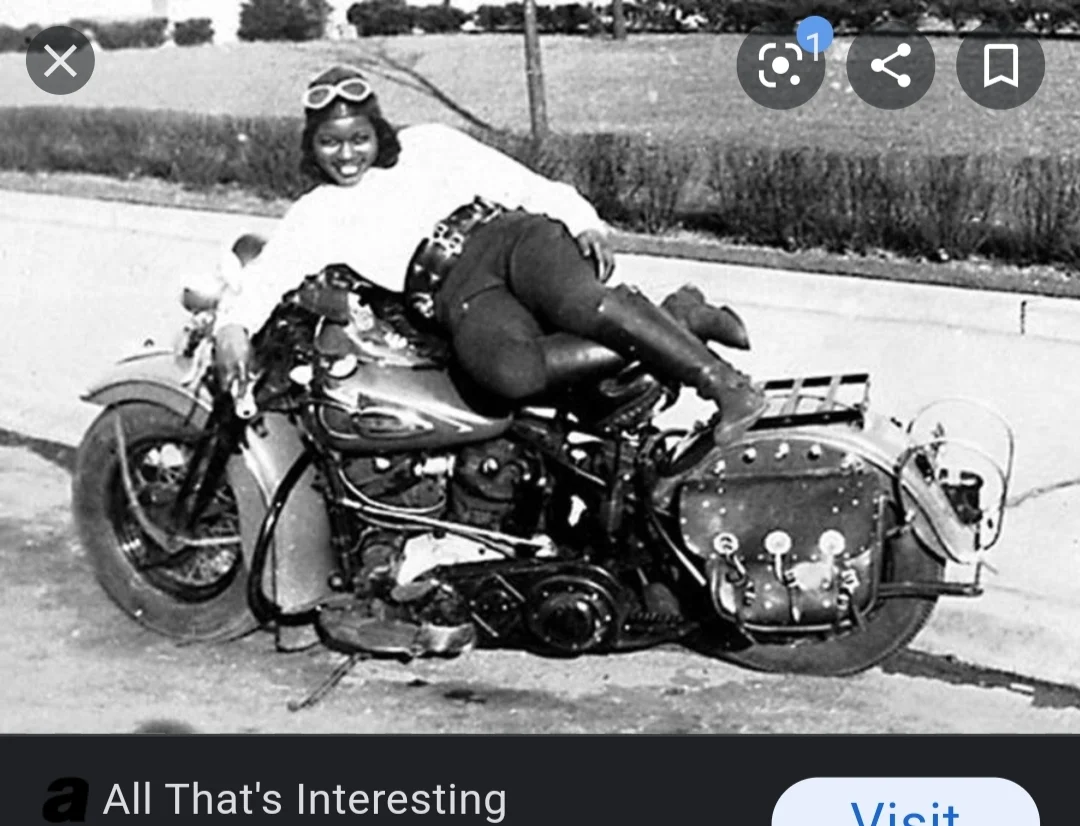 "It's got to be blue and it's got to be new! I never bought anything used—except husbands!"
1163: Bessie Stringfield
First African American Woman to Motorcycle Drive Across the United States Solo (in 1930)
Born: c.1911, Kingston, Jamaica*
Died: 16 February 1993, Opa-locka, Florida, United States of America
Bessie was dubbed the "Motorcycle Queen of Miami."
Bessie was orphaned at the age of five soon after her family moved to the United States. Her parents died of smallpox, but luckily soon after Bessie was adopted by a Catholic family (although it should be noted in some accounts that Bessie's father didn't die—instead he just abandoned his family). Bessie also had at least two sisters but probably had more siblings, full and half, that have not been identified in any of the sources.
Bessie was given her first motorcycle at the age of sixteen (a 1928 Indian Scout--though she would soon switch to Harley Davidson) and spent the next several years earning money by performing tricks at various carnivals. Because she was of African descent, Bessie was often denied sleeping accommodations in hotels or hostels, and often had to sleep on her bike at gas stations.
She was a Motorcycle Dispatch Rider for the United States Army in World War II, though she technically worked as a civilian. Bessie was the only woman in her unit and encountered even more racial prejudice while on the road. One time, a man driving a pickup truck went so far as to drive her off the road, knocking her to the ground.
During the 1930s and 1940s, she made eight solo long-distance rides across the United States. She traversed all of the lower forty-eight states on her bike throughout the years.
After the war, Bessie earned her LPN (Licensed Practical Nurse) certificate and founded a motorcycle club. One time, Bessie won a flat track race and was then denied the prize money after she removed her helmet and the race organizers realized she was a woman.
Bessie was posthumously inducted into the AMA Motorcycle Hall of Fame in 2002. She passed away from complications of an enlarged heart. According to Blackpast, she had been married and divorced six times throughout her life and suffered the loss of three children with her first husband. She owned twenty-seven motorcycles throughout her life (per Rejected Princesses).
*Some sources state her birthplace as North Carolina, however an official biography written on Bessie by a woman who knew her before she died states Bessie was born in Kingston, Jamaica, so that is the birthplace I have chosen to list here. However, it should be noted that The New York Times states her birthplace was North Carolina, and that Bessie lied and said she was born in Jamaica in order to make her life story a little more outrageous.
Badges Earned:
Find a Grave Marked
Rejected Princess
Sources:
https://nationalmcmuseum.org/featured-articles/bessie-stringfield-southern-distance-rider/
https://www.blackpast.org/african-american-history/bessie-stringfield-1911-1993/
https://www.nytimes.com/2018/04/04/obituaries/overlooked-bessie-stringfield.html
https://www.rejectedprincesses.com/princesses/bessie-stringfield
https://bessiestringfieldbook.com/
https://www.findagrave.com/memorial/165444982/bessie-b-stringfield