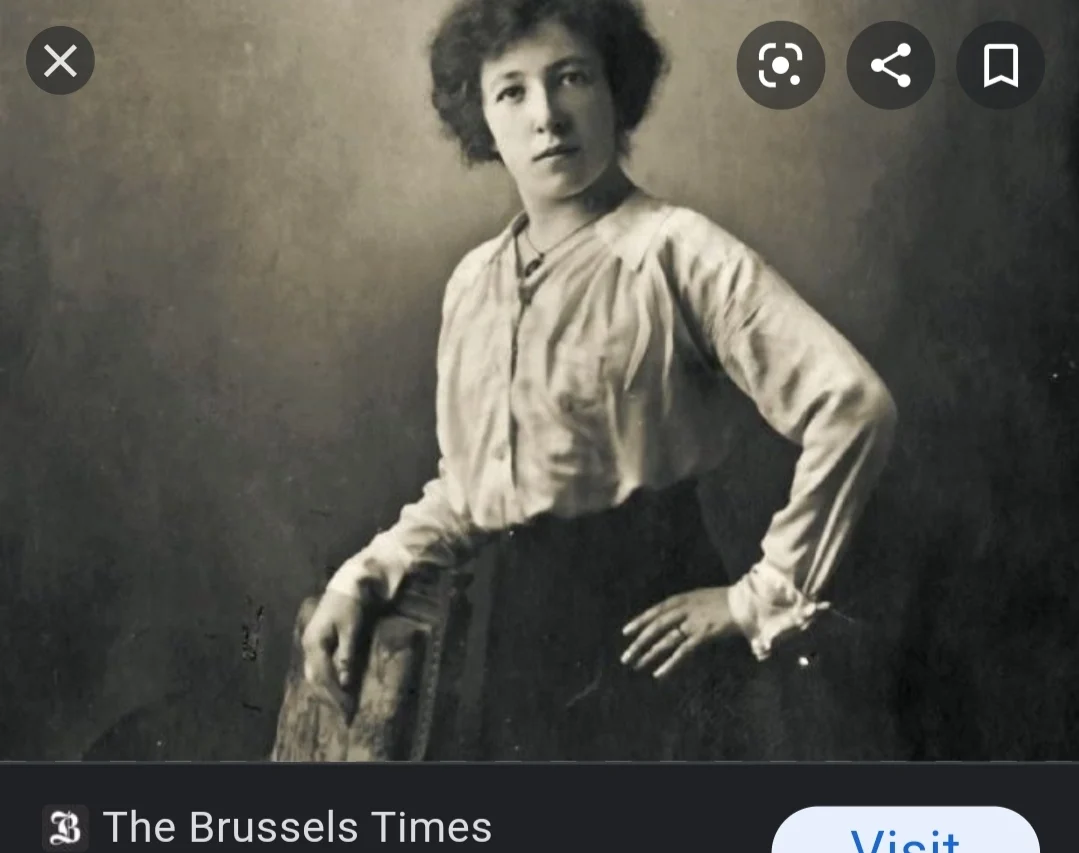 "I will show them that a Belgian woman knows how to die." Gabrielle's Final Words
1152: Gabrielle Petit
British Secret Service Spy During World War I
Born: 20 February 1893, Tournai, Belgium
Died: 1 April 1916, Scharbeek, Belgium
Full Name: Gabrielle Alina Eugenia Maria Petit
Gabrielle was the middle child of three in a family that lived just north of the brink of destitution. When Gabrielle was only nine, her mother died at the age of thirty-two from various health issues. Three months later, Gabrielle and her elder sister were placed in an orphanage by their father. While living there, Gabrielle and her sister were forced to do backbreaking work like scrubbing floors and corridors, doing laundry, peeling potatoes, and so on.
Six years later, Gabrielle was asked to leave the orphanage, and she found a job as a live-in nanny and then at a pastry store and later at a place that sold furs. Basically, she moved all over, living in various rooms and, at one point, with a lover.
By 1914, Gabrielle was working as a waitress when she met a man in the Belgian Army. After the fall of Antwerp, this soldier went into hiding before fleeing across the border with Gabrielle's help (according to one source, by this point the pair were engaged but that they later broke up). Because of her assistance, Gabrielle's name appeared before the British Secret Service. The British asked Gabrielle if she would join a spy ring in occupied Belgium. They offered to pay her and gave her a short training course in London and so she agreed. Gabrielle chose the code name, "Mademoiselle Legrand", which was the opposite of Petit.
In August of 1915, Gabrielle returned to Belgium and began her work as a spy. According to Discovering Belgium (article linked below), Gabrielle, "monitoring railway activities and troop movements in occupied Belgium, especially in the region of Tournai and Lille. She noted which troops arrived and departed, how many weapons were transported, and the positions of fuel and ammunition stocks, observation posts and anti-aircraft guns. She kept her notes on cigarette paper (if arrested, she could just smoke them) and used a multiplicity of disguises."
Gabrielle was also involved in an underground mail shipment that smuggled letters from soldiers at the front back home to their families in the occupied territory. She also worked to help distribute the largest underground resistance magazine in her country.
Gabrielle was arrested in early February 1916 after being betrayed by a German man who had been masquerading as a Dutchman. During her several weeks of interrogation, Gabrielle refused to break or name her co-conspirators. She routinely bit her interrogators as well as insulting them. Gabrielle also liked to write patriotic slogans on the walls of her cell, which were removed each morning by guards only for Gabrielle to re-write them each night.
After a single day trial, Gabrielle was found guilty and sentenced to death.
Gabrielle was executed via firing squad by the German Army at the age of only twenty-three.
She was named one of Belgium's National Heroines in 1919. In May of that year, she was exhumed from her unmarked grave at the execution grounds and reburied after a state funeral. When her statue was unveiled in 1923, it was notably given the distinction of being the first statue of a working-class woman dedicated in all of Europe.
Badges Earned:
Find a Grave Marked
Sources:
https://www.discoveringbelgium.com/gabrielle-petit/
https://encyclopedia.1914-1918-online.net/article/petit_gabrielle
https://www.brooklynmuseum.org/eascfa/dinner_party/heritage_floor/gabrielle_petit
https://www.warhistoryonline.com/world-war-i/gabrielle-petit-willing-heroine.html?chrome=1
https://www.tripadvisor.com/ShowUserReviews-g188644-d10437785-r707586718-Statue_Gabrielle_Petit_at_place_St_Jean-Brussels.html
https://www.findagrave.com/memorial/73861118/gabrielle-petit