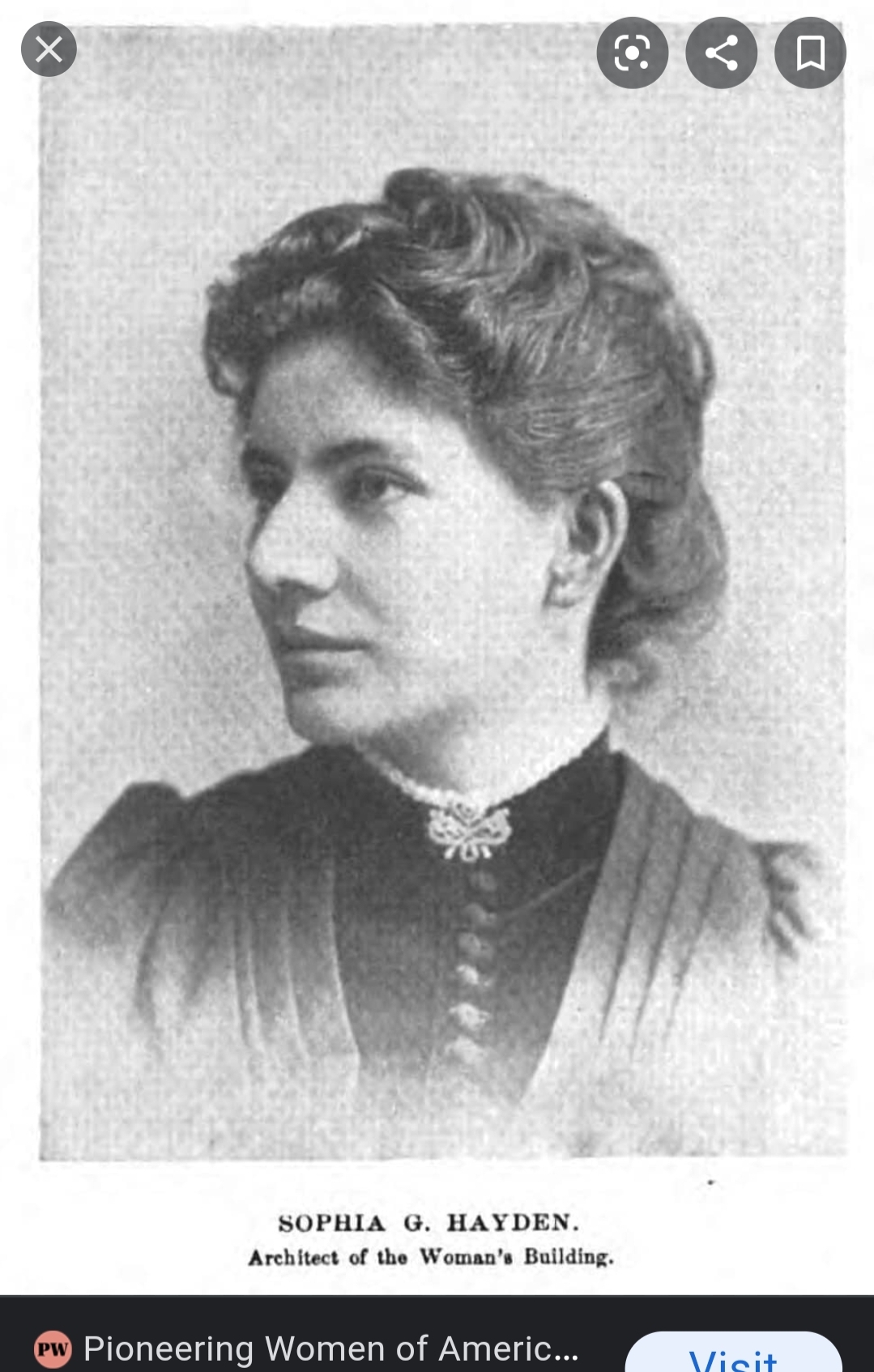 1135: Sophia Hayden Bennett
Architect and Artist
Born: 17 October 1868, Santiago, Chile
Died: 3 February 1953, Winthrop, Massachusetts, United States of America
Sophia was born to a Peruvian mother and an American father. She spent her first six years in Chile, before moving to the United States to live with her paternal grandparents.
Sophia was the first Female Graduate of MIT's Architectural four-year program. She was one of twenty-four female students enrolled at MIT at the time. Sophia graduated in 1890 but was unable to find work as an architect and took a job teaching mechanical drawing instead.
Sadly, she only designed one building after graduation that would eventually be built, for the 1893 Columbian Exposition in Chicago (specifically, it was the Woman's Building). After the completion of the building, Sophia received a much smaller designer's fee than her fellow male architects (although she was given a gold medal by a women's society). Critics were especially patronizing, deeming the building to be dainty and graceful among other feminine attributes. When Sophia failed to appear at the building's dedication ceremony, critics further stated that she must have been suffering from mental exhaustion, and that this was further proof women were not fit to be architects.
The building was demolished after the exposition closed in 1893.
Sophia spent the rest of her life working in various women's societies in Massachusetts. She married an artist around the turn of the century but had no children.
Sophia appears as a character on an episode of NBC's Timeless; specifically the episode "The World's Columbian Exposition."
Badges Earned:
Located In My Personal Library:
The Oxford Encyclopedia of Women in World History Edited By Bonnie G Smith
Sources:
https://www.britannica.com/biography/Sophia-Hayden
https://pioneeringwomen.bwaf.org/sophia-gregoria-hayden-bennett/
https://www.encyclopedia.com/women/encyclopedias-almanacs-transcripts-and-maps/hayden-sophia-1868-1953