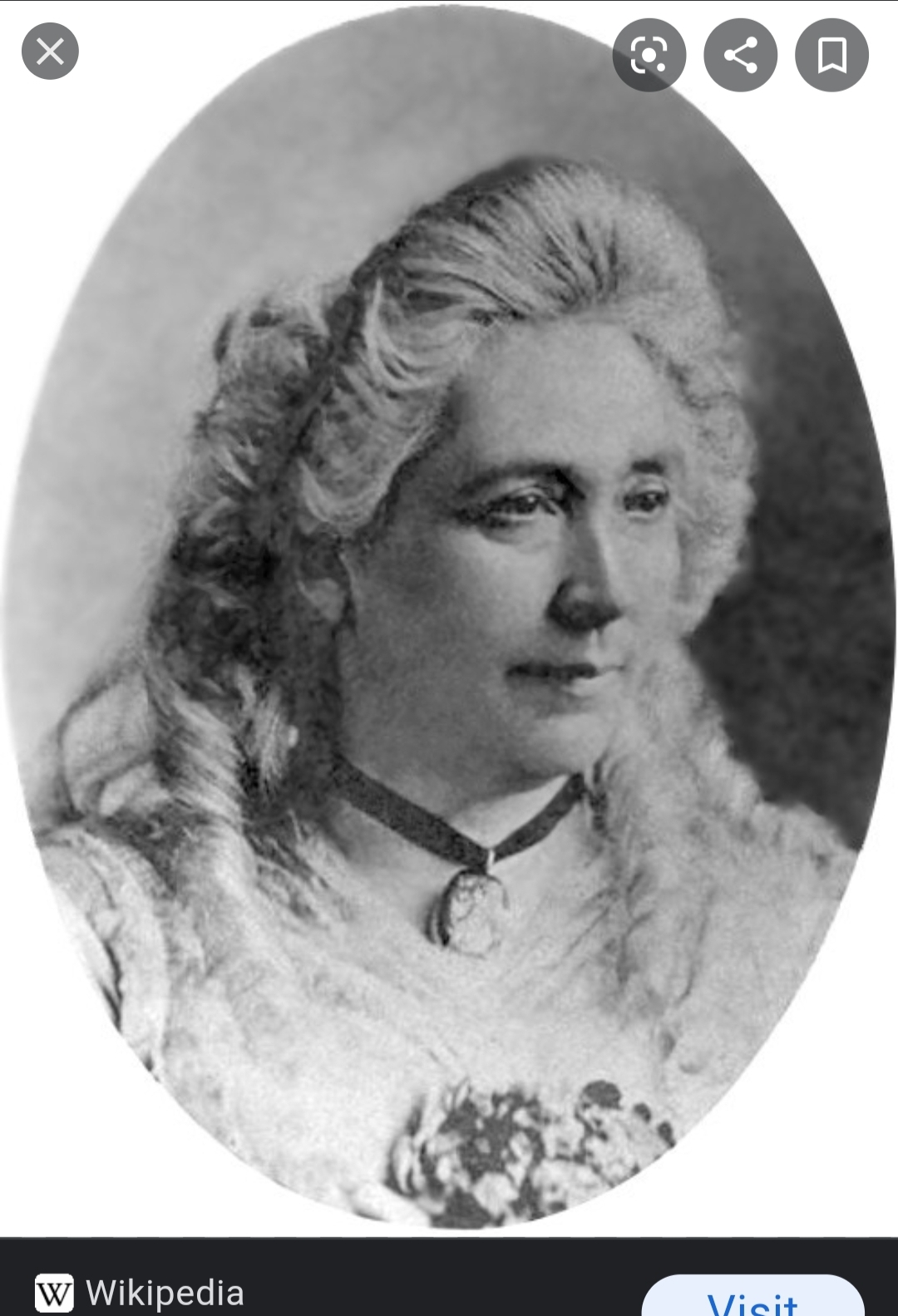 "I am like a deeply built ship—I drive best under a strong wind."
1064: Jessie Frémont
Author and Political Activist
Born: 31 May 1824, near Lexington, Virginia, United States of America
Died: 27 December 1902, Los Angeles, California, United States of America
Full Name: Jessie Ann Benton Frémont
Jessie is most known for being the wife of John C Frémont. John was a westward explorer and politician.
Jessie was the daughter of a senator. Her father educated her well, mainly at home, and she was known to have an adventurous and outgoing personality.
Jessie and John married in 1841, despite her father's misgivings (Jessie was only seventeen at the time after all). Eventually Jessie's father came around to the idea of his new son-in-law, and he used his position as a senator to further John's career in his attempts to become a westward explorer.
Jessie published several accounts and memoirs of the time she spent with her husband and his friend and companion Kit Carson. It was Jessie's writings that helped draw the national attention to John and Kit, making them both some of the most famous characters to come out of the West.
John was a polarizing figure in his own time. Most of America seemed to admire him, but he had his detractors as well. John was an Army officer, and his most well-known moment in history came when he managed to seize California from Mexican hands, giving the prosperous territory to the United States.
In 1856, Jessie became the first presidential candidate's wife to play an active role in a campaign in United States history. John's slogan was "Fremont and Jessie too." Unfortunately for them, John's candidacy did not result in a victory, but it was notable for one other reason as well: John was the first official presidential candidate for the newly formed Republican Party.
During the War Between the States, and according to The Atlantic (article linked below): "John Charles Frémont's star gradually faded in later years, though his wife never stopped supporting him. When the Civil War came in 1861, President Abraham Lincoln appointed John as a general based in Missouri. John soon clashed with the commander in chief, issuing an order that freed some Missouri slaves before Lincoln was ready to do so. Refusing Lincoln's request to modify the order, he instead sent his closest adviser to confer with the president: Jessie boarded an eastbound train to Washington. Standing face to face with the towering president, she tried to argue that John's emancipation order was helpful in Missouri and would play well in Europe, too. "You are quite a female politician," Lincoln replied. Jessie said afterward, "I felt the sneering tone and saw there was a foregone decision against all listening." Lincoln soon relieved General Frémont of his command. He would not allow a general to make political decisions that belonged to him as the government's civilian leader." Jessie's work also came under scrutiny. Detractors referred to her as "General Jessie" in the press and mocked her husband's ineptitude as being her fault. John couldn't keep up with his overbearing and energetic wife; hence the nickname.
Jessie spent the rest of the war, and most the rest of her life, trying to salvage her husband's reputation through various publications. She also worked hard to improve the sanitation practices used by the Army to try and save the lives of as many men as possible.
Jessie and her husband John had at least two children, according to Find a Grave, though her Google page only lists one son.
Jessie was a member of the National Society Daughters of the American Revolution and is known as a "Dazzling Daughter" today.
Badges Earned:
Find a Grave Marked
Located In My Personal Library:
Uppity Women Speak Their Minds by Vicki Leon
The Old West by Stephen G Hyslop
Blood and Thunder: The Epic Story of Kit Carson and the Conquest of the American West by Hampton Sides
America's Women: 400 Years of Dolls, Drudges, Helpmates, and Heroines by Gail Collins
Sources:
https://www.britannica.com/biography/Jessie-Ann-Benton-Fremont
https://www.theatlantic.com/ideas/archive/2020/01/first-celebrity-first-lady/604003/
http://www.civilwarmo.org/educators/resources/info-sheets/jessie-benton-fremont
https://civilwar.vt.edu/jessie-benton-fremont-the-civil-war-stateswoman/
DAR Dazzling Daughter's Fact Sheet (Provided during one of the classes new members can take. To see a copy please email me through the Contact Us page)
https://quotationsbywomen.com/authorq/10121/