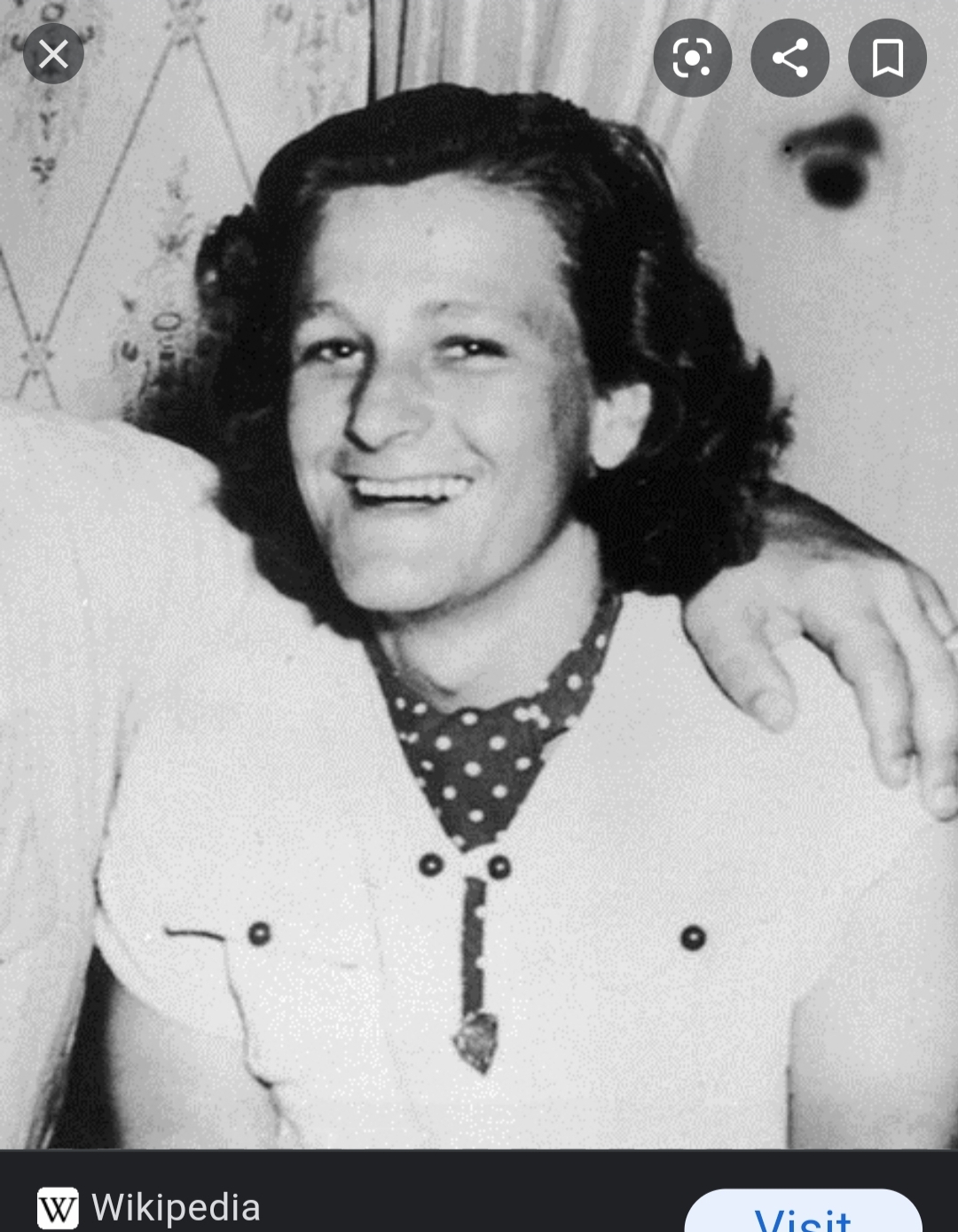 "My goal was to be the greatest athlete who ever lived."
1039: Babe Didrikson Zaharias
One of the Greatest Athletes of All Time
Born: c.1911-1914*, Port Arthur, Texas, United States of America
Died: 27 September 1956, Galveston, Texas, United States of America
Original Name: Mildred Ella Didrikson
Babe was also an Olympic Athlete and was named the "Woman Athlete of the Half-Century" by the Associated Press in 1950 for her skill in basketball, track and field, volleyball, baseball, tennis, swimming, boxing, diving, bowling, billiards, skating, cycling, golf, figure skating, football, and more.
Babe was a tomboy and was always outside playing various sports and games as a child. According to one source, when she was asked if there was anything she didn't play as a child, Babe replied, "Yeah, dolls."
Babe was one of seven children. Her parents were Norwegian immigrants and didn't have a lot in terms of money, but that didn't stop Babe from dreaming big.
Babe claimed she earned the nickname Babe (in homage to Babe Ruth) after hitting five home runs in a single game as a child.
In 1932, Babe qualified for five different Olympic sports for that years' games. Unfortunately, the rules at the time stated women were only allowed to compete in three events. Babe chose the javelin toss, the hurdles, and the high jump. She won gold in the javelin toss and hurdles and silver in the high jump. Babe's achievements meant she became the only athlete, male or female, to ever win individual medals in separate running, jumping, and throwing events. As of 2021, no other athlete has been able to claim this status.
After the Olympics ended, Babe traveled the Vaudeville circuit and performed with various traveling basketball teams for the rest of 1932.
The following year, in 1933, Babe leapt to golf, tennis, and bowling. She spent the rest of her life concentrating primarily on golf, but never gave up the other sports entirely. She won eighty-two tournaments throughout her career.
In 1950, alongside two other female golfers, Babe helped found the Ladies Professional Golf Association. For this reason and because of her prolonged time spent in the golf world, Babe is most associated with golf today despite all of her other accomplishments in other sports.
Babe was married, but one source claims later in the marriage she was more interested in her friend Betty who was a fellow athlete and spent time at her home. However, none of the other sources I read even mention Betty so take this part of the story with a grain of salt.
She was the opposite of everything a woman of her time was supposed to be; but instead of letting the critics get to her, Babe just kept doing what she was doing. She is remembered for being flamboyant, arrogant, and cocky at times, which didn't endear her to her teammates, but Babe never seemed to care about that either. She wanted to be the greatest athlete in the world, and she was going to achieve that goal. Most impressive of all, Babe did this all before Title IX ensured female athletes were able to compete and be given the space they needed to prove themselves on the various fields, lanes, and greens across all sports. True, Title IX protects women and girls in sports in educational fields (meaning any school or university in the United States that receives federal funding), but its also true that Title IX has enabled many women and girls to transition from college athlete to the professional arenas.
In 1953, Babe was diagnosed with colon cancer. Surgeons removed the initially discovered tumor, and Babe continued to compete in golf tournaments. However, a few weeks later, her doctors informed Babe the cancer had spread to her lymph nodes and was inoperable. She died three years later at the age of just forty-five. Babe never had children, but she had made her mark and would never be forgotten.
Babe was posthumously inducted into the Olympics Hall of Fame, and was also posthumously awarded the Presidential Medal of Freedom in 2021.
*Babe claimed she was born in 1914, however surviving documentation indicates the correct birth year was most likely 1911.
Badges Earned:
Find a Grave Marked
Located In My Personal Library:
The Book of Awesome Women: Boundary Breakers, Freedom Fighters, Sheroes, and Female Firsts by Becca Anderson
Time Magazine's 100 Women of the Year (Alice appears in the 1932 article, "Babe Didrikson")
Sources:
https://www.britannica.com/biography/Babe-Didrikson-Zaharias
https://usopm.org/babe-didrikson/
https://www.womenshistory.org/education-resources/biographies/mildred-zaharias
http://www.espn.com/sportscentury/features/00014147.html