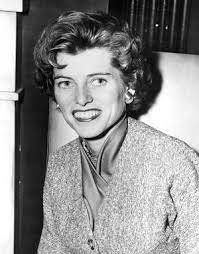 "I was twenty-four before I knew I didn't have to win something every day." 
"Like diabetes, deafness, polio, or any other misfortune, [intellectual disabilities] can happen in any family. It has happened in the families of the poor and rich, of governors, senators, Nobel prizewinners, doctors, lawyers, writers, men of genius, presidents of corporations – the President of the United States."
1038: Eunice Kennedy Shriver
Not All Kennedys are Cursed
Born: 10 July 1921, Brookline, Massachusetts, United States of America
Died: 11 August 2009, Hyannis, Massachusetts, United States of America
Eunice was a member of the famed Kennedy family. Her parents were Joe Sr and Rose, while her eight siblings included the politicians President John F Kennedy, Attorney General Robert F Kennedy, and Senator Edward "Ted" Kennedy and her sisters included Kathleen "Kick" Cavendish and Rosemary. Each of Eunice's siblings achieved fame for their own famous, or infamous, activities, but Eunice never sought the spotlight in the same way as some of her other brothers and sisters.
In college, Eunice earned a bachelor of science degree focused in sociology. This made Eunice the first woman in her family to graduate with a four-year college degree. During World War II, she worked in the US State Department's Special War Problems Division. After graduation, Eunice worked at the Department of Justice helping underprivileged youth. One of her goals was to stop teenagers from dropping out of school by introducing vocational and trade skills to ensure they would have career opportunities in the future. Eunice also worked as a social worker at a women's penitentiary and then as an advocate for juvenile court and various religious organizations in Chicago, Illinois.
Eunice was also active in her male family member's ambitions in the political realm. She organized tea parties and gathered Irish Catholic voters for her brother John's senate and later presidential runs. She even spent months on the campaign trail, over and over again throughout her life, for her brothers and later husband as well. After her brother John was elected president in 1960, Eunice was hospitalized with exhaustion from her overwork on the campaign trail, but she didn't mind. Her brother had emerged victorious after all. Around the same time, Eunice was diagnosed with Addison's Disease (which her brother John also suffered from).
In 1953, Eunice married Robert Shriver. Together they had five children, including a daughter Maria who went on to marry (and later divorce) Arnold Schwarzenegger.
In 1957, Eunice took over as director of the Joseph P Kennedy Jr Foundation. Named and founded in honor of Eunice's eldest brother who died during World War II, the foundation sought to improve the ways society viewed people with intellectual disabilities as well as identifying the causes of intellectual disabilities in the first place.
According to Eunice's biography as posted on the Special Olympics website, Eunice used her position as director of the foundation to better the world at large. These betterments included:
"The creation of President Kennedy's Panel on Mental Retardation in 1961, development of the National Institute for Child Health and Human Development in 1962, establishment of a network of university-affiliated facilities and intellectual disabilities research centers at major research universities across the United States in 1967, and the creation of major centers for the study of medical ethics at Harvard and Georgetown universities in 1971. In the 1980s, she pioneered the "Community of Caring" concept as a character-education program for teens; this idea led to the creation of 16 "Community of Caring" Model Centers and the establishment of "Community of Caring" programs in 1,200 public and private schools across the United States."
(Full article linked under the sources tab below).
Today, Eunice is best remembered for being a founding organizer of the Special Olympics. Eunice fought to create the Special Olympics after learning the truth about her older sister Rosemary, whom she had always been especially close to.
Rosemary was the oldest Kennedy sister, and you can read her complete story by clicking her highlighted name above and reading her article here on this website. The shortened version, however? Rosemary suffered brain damage during her birth and, later in life, her father had a secret lobotomy performed on her to keep her quiet and compliant.
Eunice was horrified to learn this truth. She was also horrified by the treatment and stigmatization of people with mental disorders in general at the time.
In college, Eunice became an athlete. She decided there was no better way than to unite those with mental disabilities with the rest of the public than through sports and other physical activities. In 1962, Eunice opened "Camp Shriver", which allowed children with intellectual disabilities to come to a summer camp in her backyard. The camp was designed to help the children see what exactly they could do and how strong they actually were. Only six years later, the first Special Olympics were held in 1968 in Chicago.
Over the next fifty years, the Special Olympics evolved into an organization that has helped over six million people across two hundred countries.
Eunice herself was awarded the US Presidential Medal of Freedom alongside numerous other accolades throughout her life. Until the day she died, she never stopped fighting for acceptance and the betterment of all mankind. She lived a long and full life, all of her children survived childhood, she did amazing work to help people all over the world, and she proved that not all Kennedys are in fact, cursed.
Badges Earned:
Find a Grave Marked
Located In My Personal Library:
Eunice: The Kennedy Who Changed the World by Eileen McNamara
The House of Kennedy by James Patterson and Cynthia Fagen
The Kennedy Curse by Edward Klein
Sources:
https://www.specialolympics.org/eunice-kennedy-shriver/bio
https://www.jfklibrary.org/learn/about-jfk/the-kennedy-family/eunice-kennedy-shriver
https://www.nps.gov/people/eunice-kennedy-shriver.htm
https://www.findagrave.com/memorial/40538920/eunice-mary-shriver