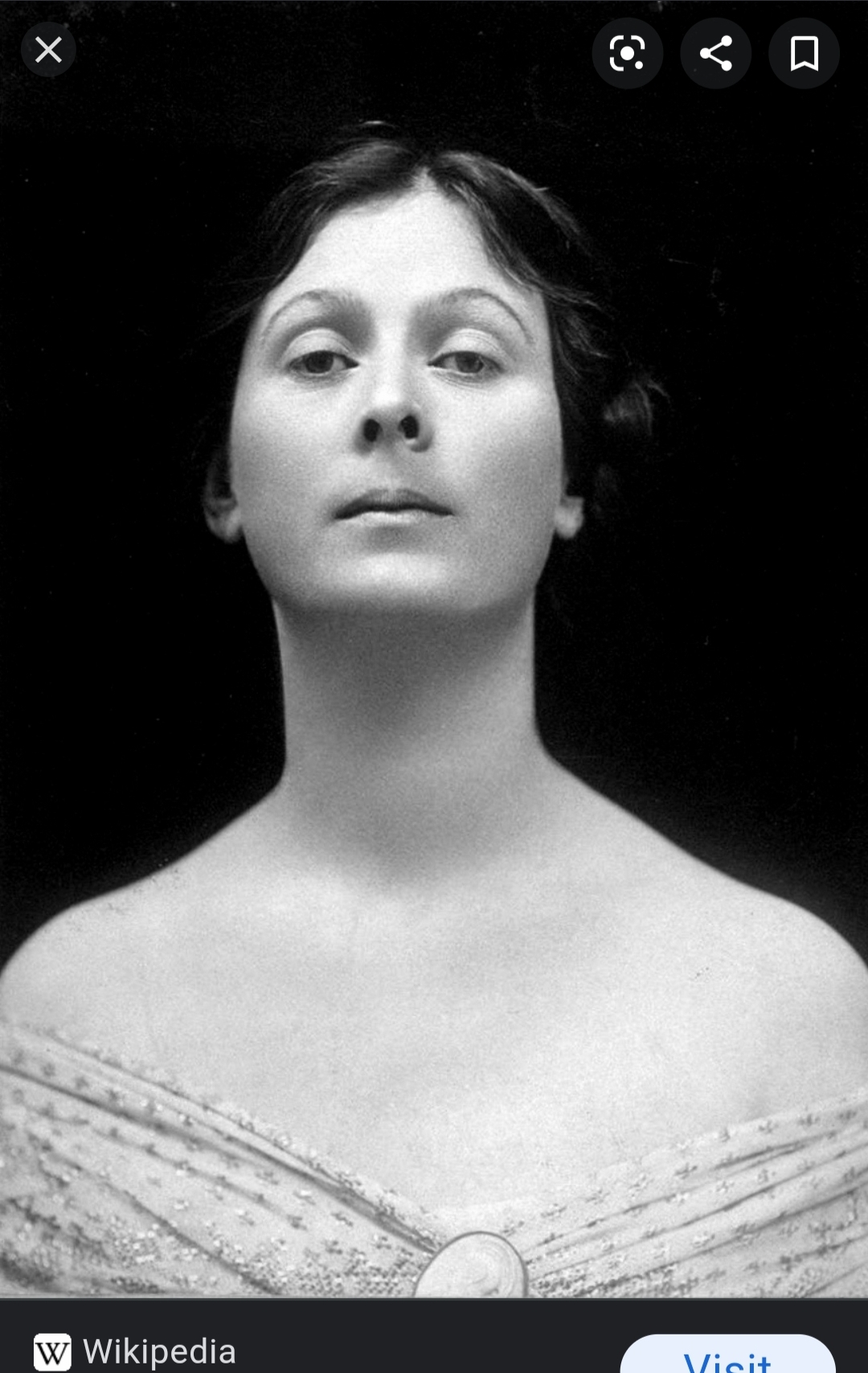 "Yes, I am a revolutionist...All true artists are revolutionists."
1010: Isadora Duncan
Dancer dubbed the "Mother of Modern Dance"
Born: 26 May 1877-78*, San Francisco, California, United States of America
Died: 14 September 1927, Nice, France
Original Name: Angela Duncan
Isadora's life was filled with tragedy.
Her two children and their nanny were killed after their car rolled into the Seine and the three of them all drowned.
Isadora herself then died when her silk scarf caught in the wheel well of a car. She was strangled instantly.
Before her untimely death, Isadora pioneered a new way to dance. She shed the rigidness of ballet and showed the world a new way to perform. Isadora's ideas caught on quickly and spread across the world, traveling from the United States to Europe and even Russia.
Isadora used her new form of dance to fight for women's equality. Isadora was dancing on stage, with long flowing hair and a Greek inspired outfit of loose cloth draped across the body, in a time when women still wore corsets and never showed their ankles.
Isadora was the youngest of four children and was raised by her single mother after her parents divorced when Isadora was about three years old. As a child, Isadora and her sister earned extra money for the family by teaching dance classes to other children in the area. She struggled to gain popularity and acceptance with audiences for many years, until finally in 1902, Isadora debuted onstage in Budapest. Her shows remained sold out for thirty straight days.
By 1905, Isadora was living in Germany and had opened her own dance school. Her star continued to shine throughout Europe and Isadora's image was seen in sculpture work and her name was referenced in other types of art.
Isadora had vowed to never marry, but she still had her two children. Deirdre's father was a man Isadora dated very seriously for many years, and the pair remained friends after the relationship ended. Isadora's son, Patrick, was fathered by an heir to the Singer Sewing Fortune. Patrick's father also helped fund Isadora's second school, which opened in the years leading up to World War I, though neither school survived long term.
In 1913, Deirdre, Patrick, and their nanny were all killed after the car they were traveling in rolled into the Seine and they drowned. That same year (and again in 1924), Isadora was reportedly also injured in a car accident. Isadora continued to work after her children's death, but as referenced above, her own mental health suffered greatly—which was completely understandable! Anyone who survived the loss of their children will be affected. Sadly, for Isadora, her battles were harder than most.
Between 1916 and 1920, Isadora continued to travel the world, performing choreographed shows. In 1921, she moved to Moscow in the hopes of influencing the new Soviet state with her artistic freethinking movement. The new government actually did fund a school for her, and Isadora continued to work.
A few years later, Isadora broke her previous vow and married a young poet. Reportedly, they only married so that her new husband would be able to travel across the United States with her while she toured. Upon arriving in the United States, both Isadora and her husband were lambasted and treated with suspicion by journalists who believed Isadora had gone fully Communist since living in the USSR. One source goes further to state her citizenship from the United States was also revoked around this time.
In 1925, Isadora's husband—by then estranged from her, committed suicide.
In 1927, Isadora got into an early Bugatti sports car with a young driver in France. She climbed into the vehicle, waved goodbye to her friends, and died only moments later. The Bugatti was an open wheel car, and Isadora's long scarf had become tangled around the wheel; instantly breaking her neck and dragging her body from the vehicle. Her dramatic life had come to a screeching halt; but then again, so do most artists' lives.
*According to Encyclopedia Britannica, Isadora's birth year is usually stated as 1878, but in 1976, a baptismal record was uncovered stating she was born a year earlier in 1877.
Badges Earned:
Find a Grave Marked
Located In My Personal Library:
The Oxford Encyclopedia of Women in World History Edited By Bonnie G Smith
Historical Heartthrobs: 50 Timeless Crushes from Cleopatra to Camus by Kelly Murphy and Hallie Fryd
The Book of Awesome Women: Boundary Breakers, Freedom Fighters, Sheroes, and Female Firsts by Becca Anderson
Sources:
https://isadoraduncan.org/foundation/isadora-duncan/
https://www.britannica.com/biography/Isadora-Duncan
https://www.history.com/this-day-in-history/dancer-isadora-duncan-is-killed-in-car-accident