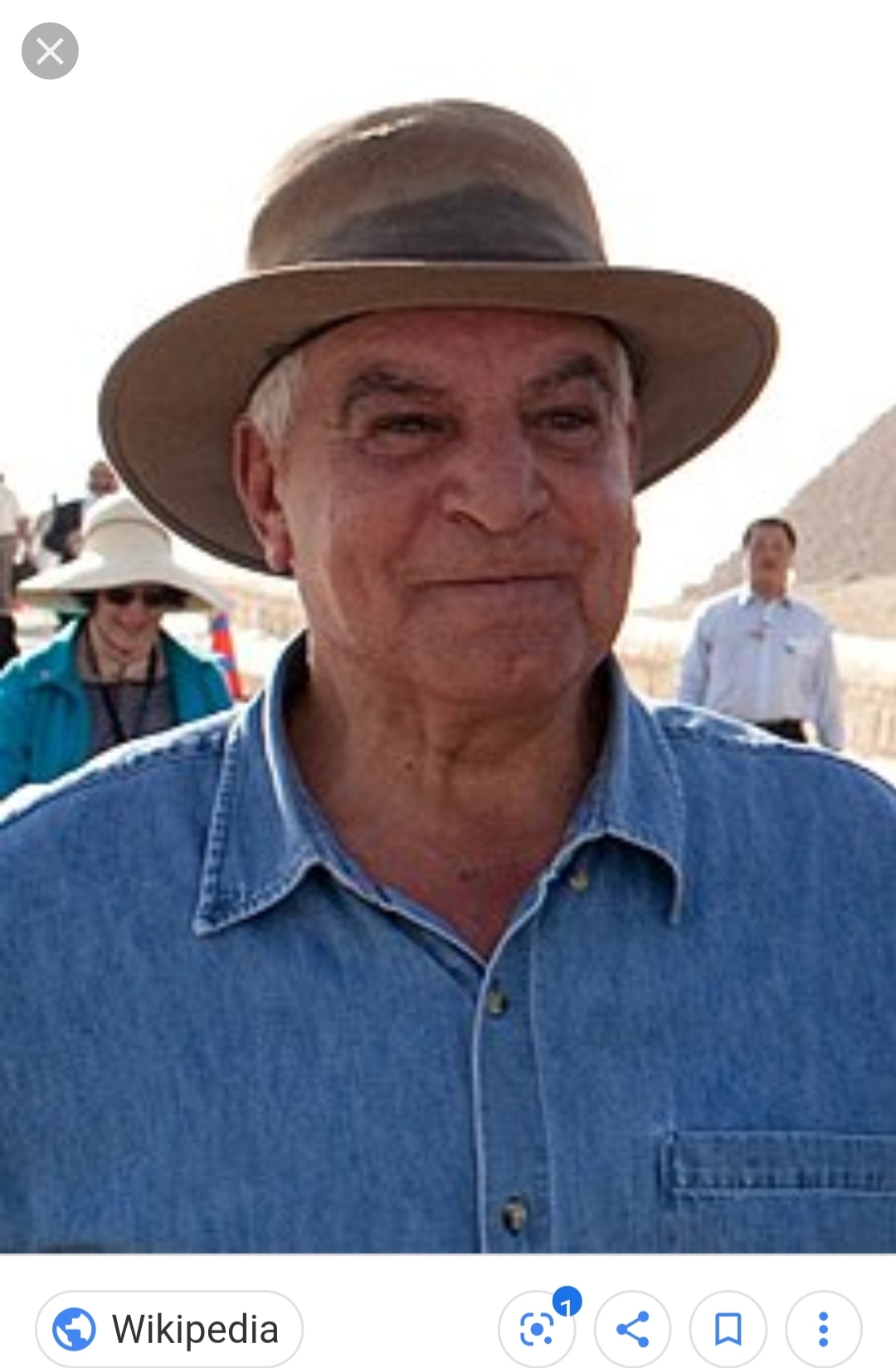 69) Dr. Zahi Hawass,
If I Could Meet Anyone Alive Today, it Would be Dr. Hawass
Born: 28 May 1947, Damietta, Kingdom of Egypt (Present-day Damietta, Arab Republic of Egypt)
Zahi is the Former Secretary General of the Supreme Council of Antiquities; he is better known for his numerous documentary appearances, speeches, and books.
Zahi's contributions to the field of Egyptian Archaeology are numerous and extensive and would take ages to list them all. However, I want to note that I am a bit biased towards him in general because he is the reason I fell in love with Ancient Egypt in the first place (and now I have an ankh tattoo so this is a permanent fascination!) Anyway, when I was in the fourth grade my dad let me stay up until four in the morning to watch the documentary Zahi did about finding Pharaoh Hatshepsut's mummy!
Now—back to Zahi.
He resigned his government position with the fall of President Mubārak in 2011. However, the new president reappointed him to a similar position. Then Zahi and several other government leaders were removed from their cabinet positions. The political situation in Egypt is…not stable, to say the least. Over the years, Zahi had held a number of positions within the Council of Antiquities but had risen to the top by the very end. With him leaving the government, a number of people came out to denounce him for being corrupt, but no proof of that actually exists so—haters gonna hate.
Even his detractors cannot argue that Zahi reclaimed the field of Egyptology for Egyptians as opposed to Western archaeologists for the first time since antiquity. He was, and continues to be, passionate in his belief that certain iconic pieces from antiquity should be returned to Egypt. Among these are the bust of Nefertiti held in Germany and the Rosetta Stone in England.
In late 2020, Zahi became Project Director of a new excavation that unearthed a new industrial city on the outskirts of Luxor in Southern Egypt. The city has not been publicly named yet, but has been hailed as the second most important archaeological find after the tomb of Tutankhamun was located by Howard Carter in 1922. To learn more about the discovery read the BBC article linked below under the sources tab, or look at the article "Egyptian City Found After 3,400 Years Underground" in the National Geographic History September/October 2021 edition.
Badges:
Located In My Personal Library:
I own the following books—all of which are authored or Co-authored by Zahi Hawass:
The Secrets of the Sphinx (this one is in both English and Farsi!)
Tutankhamun and the Golden Age of the Pharaohs
National Geographic History Magazine September/October 2021 Edition; Zahi is briefly mentioned in the article "Egyptian City Found After 3,400 Years Underground" by Braden Phillips
Lost Cities, Ancient Tombs: 100 Discoveries That Changed the World edited by Ann R Williams (Zahi is referred to in the chapter "Egypt's Pyramid Builders"
Sources:
https://www.smithsonianmag.com/history/the-rise-and-fall-and-rise-of-zahi-hawass-72874123/?all
https://www.britannica.com/biography/Zahi-Hawass
https://www.egypttoday.com/Article/4/64704/Zahi-Hawass-demands-retrieval-of-Egypt%E2%80%99s-looted-artifacts