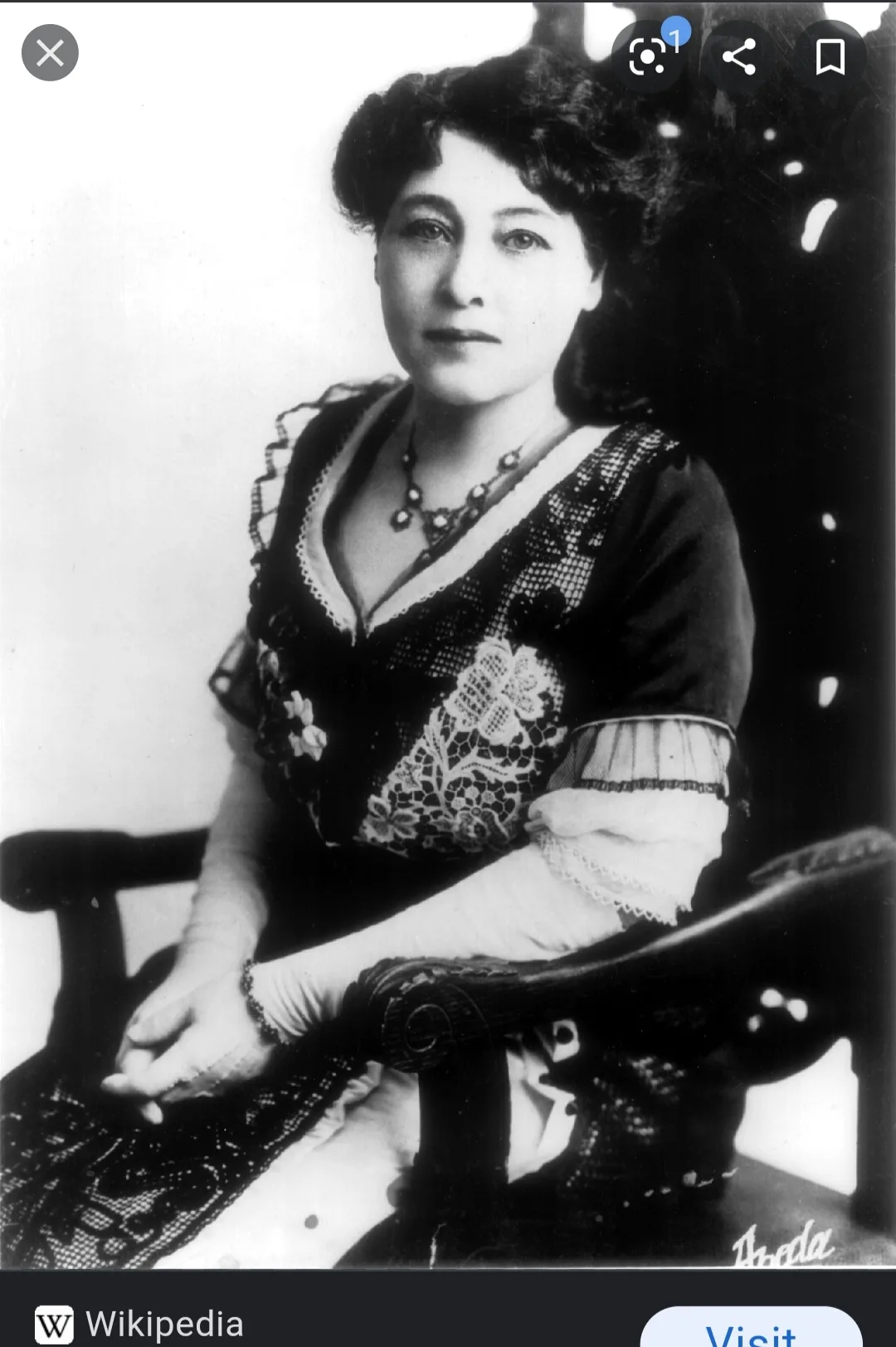 1172: Alice Guy-Blaché
The First Director and Writer of Narrative Fiction Filmography
Born: 1 July 1873, Paris, France
Died: 24 March 1968, Mahwah, New Jersey, United States of America
Alice was also a special effects innovator and the first known female film director. It is believed that from 1896 to 1906, Alice was the only female film director working in the world.
She is known to have directed and produced around 600 Silent Films over the course of her career. Alice also directed, produced, or supervised around one hundred and fifty sound films for the Gaumont Film Company using Chronophone technology. The films only lasted between one and thirty minutes, so relatively short compared to the blockbusters of today, but for Alice's time this was remarkable to say the least.
According to the Women Film Pioneers Project (article linked below):
Most notable of her Gaumont period films is La Vie du Christ (1906), a thirty-minute extravaganza that featured twenty-five sets as well as numerous exterior locations and over three hundred extras.
In 1910, while living with her husband in New York, Alice began to produce her own films under the studio name Solax. The films were created on the Gaumont film lot, and distributed through the Gaumont company, but this was still a remarkable achievement to say the least.
Solax flourished as a company for the next two years, allowing Alice, her husband, and their two children to move into a large home in New Jersey. Alice was even able to purchase a $100,000 studio lot for her company, also in New Jersey, in 1912. That same year, Alice also began to distribute her own films on a state-by-state basis throughout the United States.
Alice's films were revolutionary for their time. She nearly always portrayed married couples as standing on an equal partnership, instead of the husband dominating his wife as was common in both films and culture as a whole at the time. Alice was also known for creating action films that starred female leads.
In 1913, Alice's husband launched his own studio, and sadly the Solax name slowly faded away. Alice and her husband worked in tandem under the new company name. They continued to create films together—one would direct and the other would produce, flipping back and forth in their roles. The couple also produced and directed for other film companies as well throughout the 1910's.
The couple separated in 1920, and Alice's company filed for bankruptcy around that time as well. She spent the next thirty years back in her native France. Alice never made another film, but she did write screenplays and articles for film magazines. She also lectured on all aspects of film. Alice was awarded the Legion of Honor by her native France in 1953. Her autobiography was published posthumously in 1976. Sadly, the vast majority of her films have been lost over time, and most of the credit for her work was given to male colleagues until very recently.
Badges Earned:
Find a Grave Marked
Located In My Personal Library:
Backwards and in Heels: The Past, Present, and Future of Women Working in Film by Alicia Malone
The History of Cinema, a Very Short Introduction by Geoffrey Nowell-Smith
Sources:
https://wfpp.columbia.edu/pioneer/ccp-alice-guy-blache/
https://www.britannica.com/biography/Alice-Guy-Blache
https://www.nytimes.com/2019/09/06/obituaries/alice-guy-blache-overlooked.html
https://www.findagrave.com/memorial/6837011/alice-ida_antoinette-guy-blaché